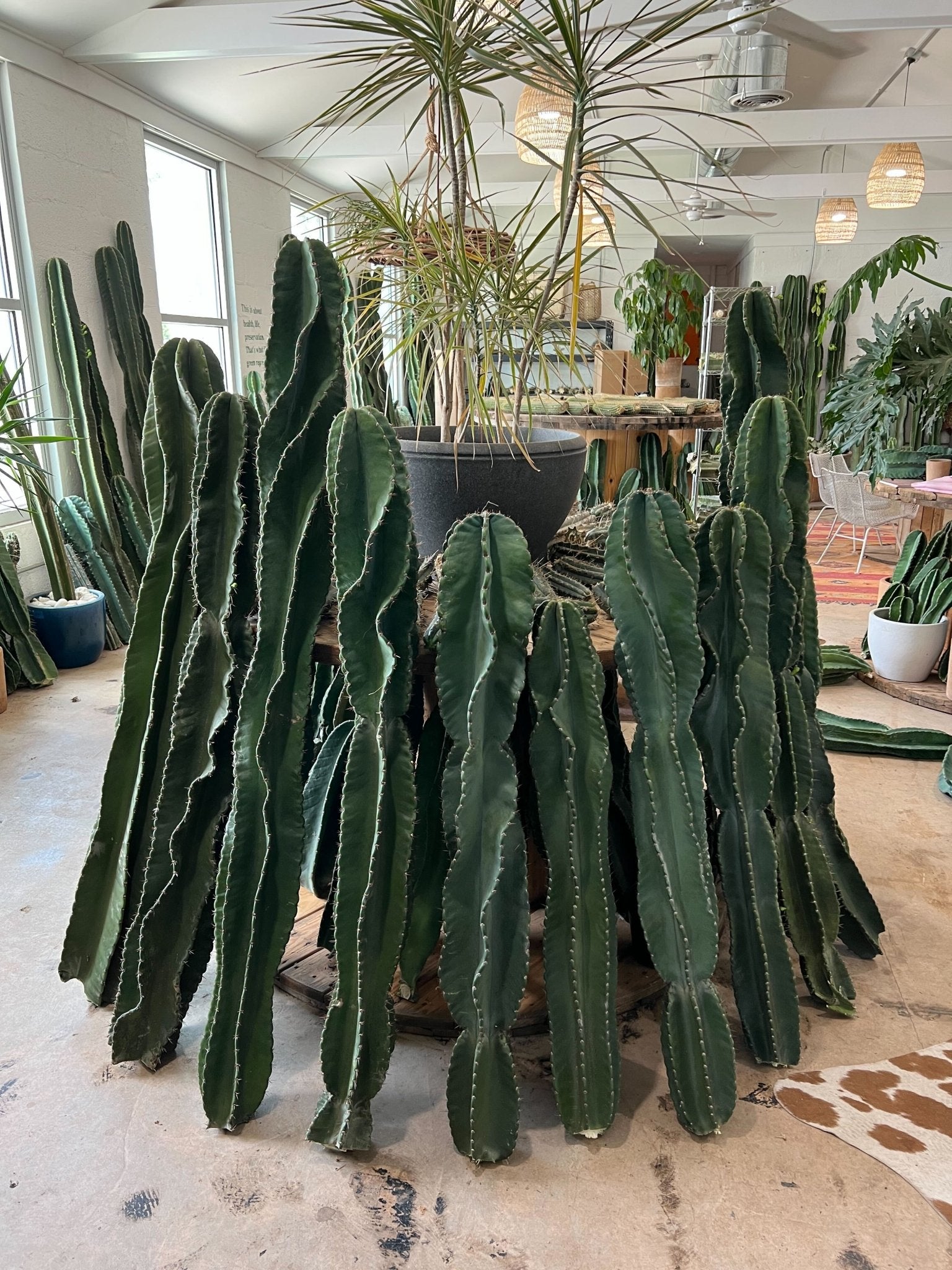 Twisty Peruvian Apple Cactus Cutting
$25.00
Regular price
$32.50
Description
The TWISTY Peruvian Apple Cactus
Cereus Peruvianus Monstrosus
** Features a Specialty Twisted Spine **
Columnar variety of cactus with color variations ranging from yellow / green, green, blue / green, and gray. During the growing season, Apr - Oct, the cactus will produce 6-8" diameter white colored flowers that only bloom for one night. They also produce an edible fruit the size of a lemon, similar to a dragon fruit.
CARE INSTRUCTIONS
Sunlight: Full sun. when indoors, placing the cactus near an east or west facing window is best for optimal light. If placing outside during the warm months (50+ degrees), we recommend a covered patio that gets really good light
Watering – drought tolerant species. Water once a month. Make sure the soil drying completely 3 days after watering.
Soil – premixed bags of cactus soil. You can make your own with sand, organic soil, perlite, and small lava rock. DO NOT use regular potting soil.
Issues – Root rot is caused when the soil does not have proper drainage and stays moist for too long. We recommend planting your cutting in a clay or terracotta pot with a drainage hole to achieve the highest soil breathability. Scale and Meelybugs can be treated with insecticidal soaps.
30 day return / replacement policy if plant arrives dead or damaged.
Plant Information
Plant Difficulty: Beginner
Plant Size: Extra Large
Plant Growth: 12 in
Unit Sizes: SM: ~1ft tall
MD: ~1.5ft tall
LG: ~ 2ft tall
XL: ~ 2.5ft tall
XXL: ~ 3ft tall
XXXL: ~ 3.5ft tall
XXXXL: ~ 4 ft tall
----
Soil Needed: Dry / Arid Soil
Preferred Humidity: Dry
Sunlight Requirements: Direct Sunlight
Water Frequency: Monthly

Care Guide
- Requires Bright Direct Sun
- Water once per month
- Use a dry or arid soil
- Does best in 60 - 75 degrees F
Shipping & Delivery
We currently only ship to the United States. All shipping prices are displayed at checkout.
Twisty Peruvian Apple Cactus Cutting
$25.00
Regular price
$32.50
No more products available for purchase